In the occurrences module, we can change some settings to better suit your process of dealing with your occurrences.
You can change some settings for action plans, deadlines and the use of cause analysis tools.
To access, click on Settings in the Occurrences module.
Necessary to have permission in the Settings "Manage " roles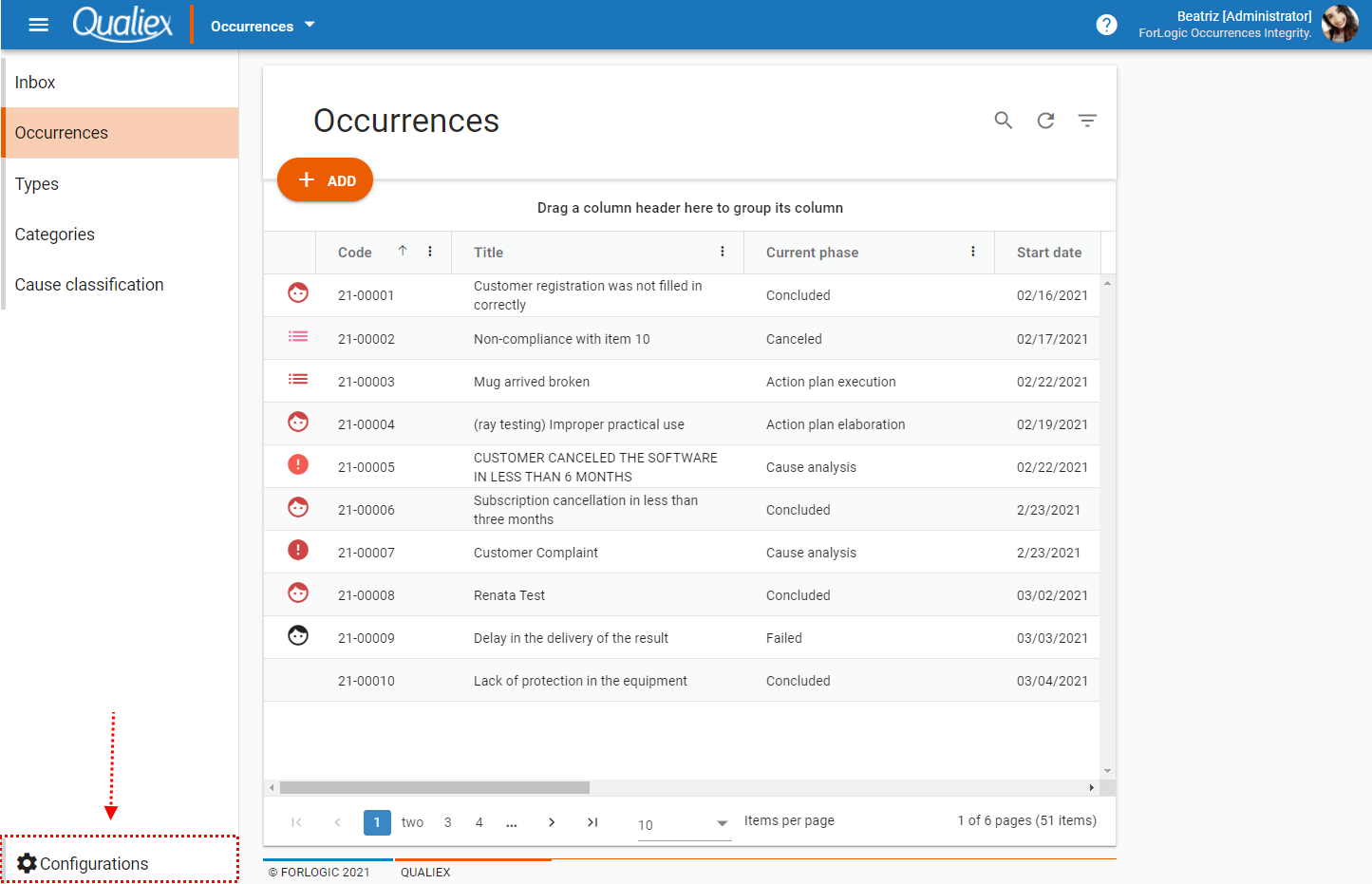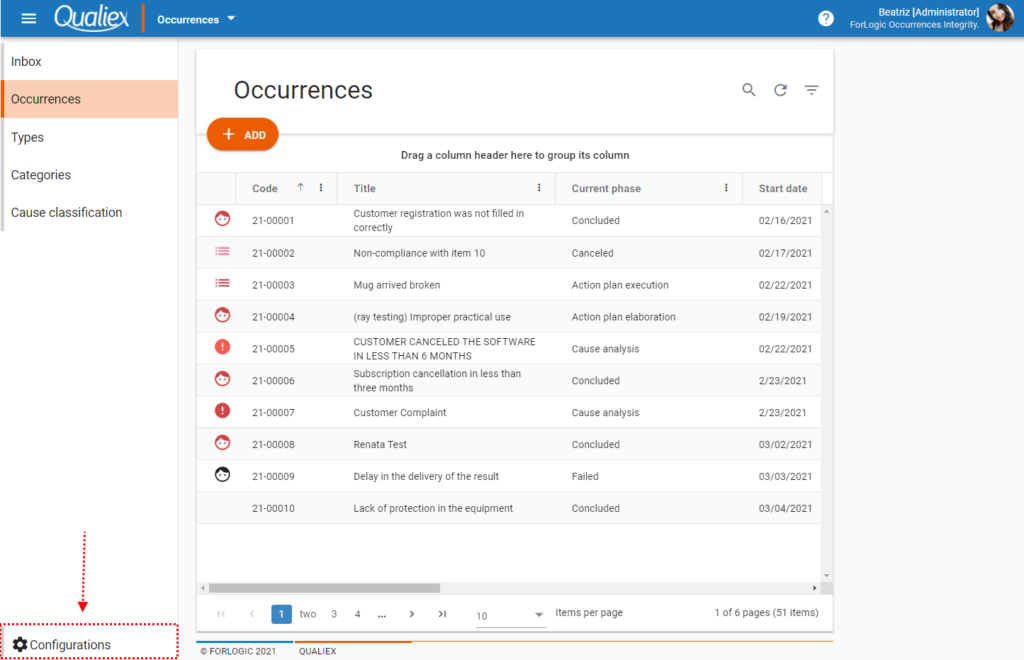 As needed, enable, or disable a setting.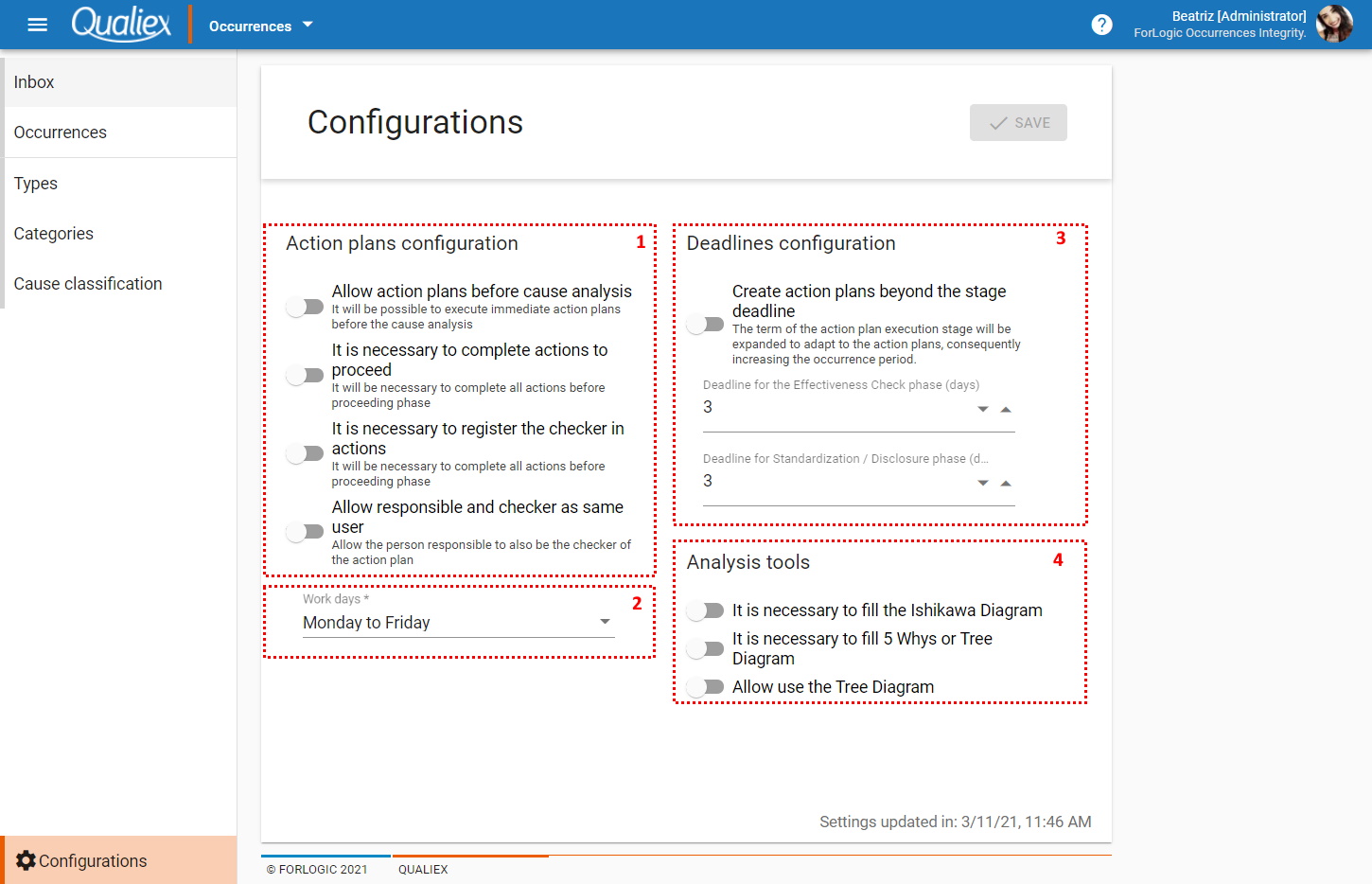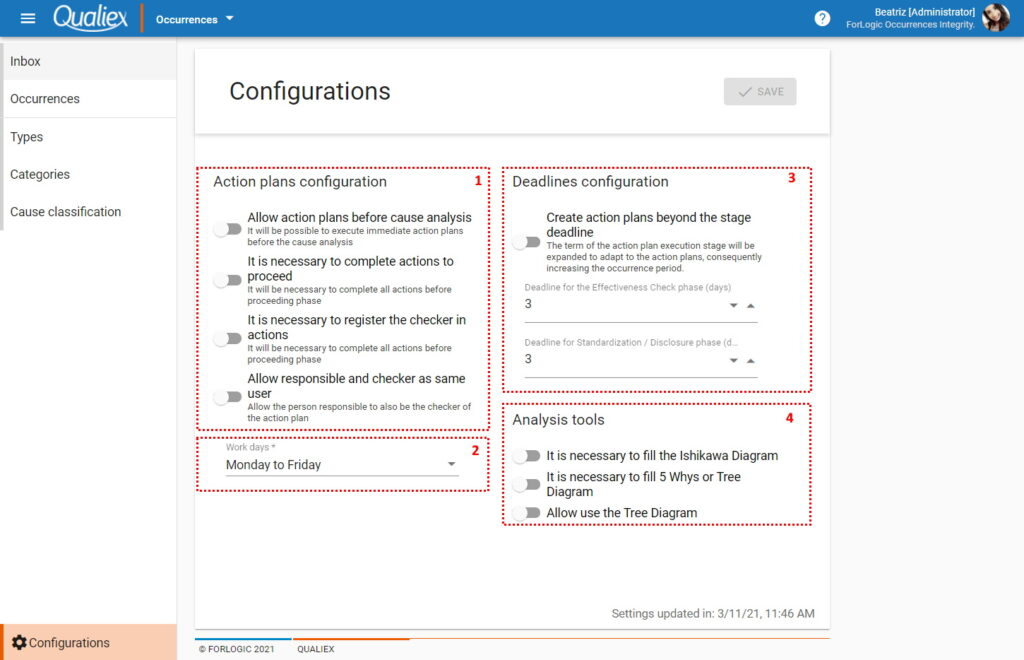 1. Setting up action plans
Allow action plans before the cause analysis: Select to create and execute any type of action plan even before the cause analysis, so we can record the immediate actions.
Complete all actions to proceed to Effectiveness Check: Enable if it is necessary that it is only possible after completing all actions to proceed to the Effectiveness Check step.
Mandatory verifier in the actions: Activate if it is necessary to fill the mandatory field of the verifier in the action plans.
Allow the person responsible and the verifier of the action to be the same user: To allow the same user to be the person responsible for the action and the verifier, enable this option.
2. Working days
Select according to the deadline for dealing with the occurrence, considering:
Monday to Friday: If the handling of occurrences should only be considered from Monday to Friday, select this option.
Except Sundays: Select this option if your company also counts every day of the week (Monday to Saturday) ignoring Sundays.
Every day: Enable to consider deadline with running days for dealing with your occurrence.
3. Setting deadlines
If it is necessary to allow the deadline for dealing with the occurrence to be extended considering the term of the action plans, we can enable this option.
Create action plans beyond the term of the step: The term of the action plan execution step will be expanded to adapt to the action plans, consequently increasing the occurrence term.
Deadline for the Effectiveness Check step (days): To define the deadline for the effectiveness check, inform the number of days to carry out this step.
Deadline for Standardization / Disclosure step (days): Enter the number of days that the standardization and disclosure step will have to be completed.
4. Analysis tools
To complete the tools, it is mandatory to progress from one stage to the next or it is necessary to enable the tree diagram for use, enable the options in this section.
Mandatory Ishikawa filling: Enable so that filling in the Ishikawa diagram is mandatory.
Mandatory filling of 5 whys or tree diagram: Select to have the mandatory filling of 5 whys or tree diagram.
Tree diagram allowed: Select this option to enable the tool when performing a cause analysis.
For a mandatory diagram to be considered completed, it is necessary to have at least one root cause enabled.
After making the settings, click Save to complete the changes.